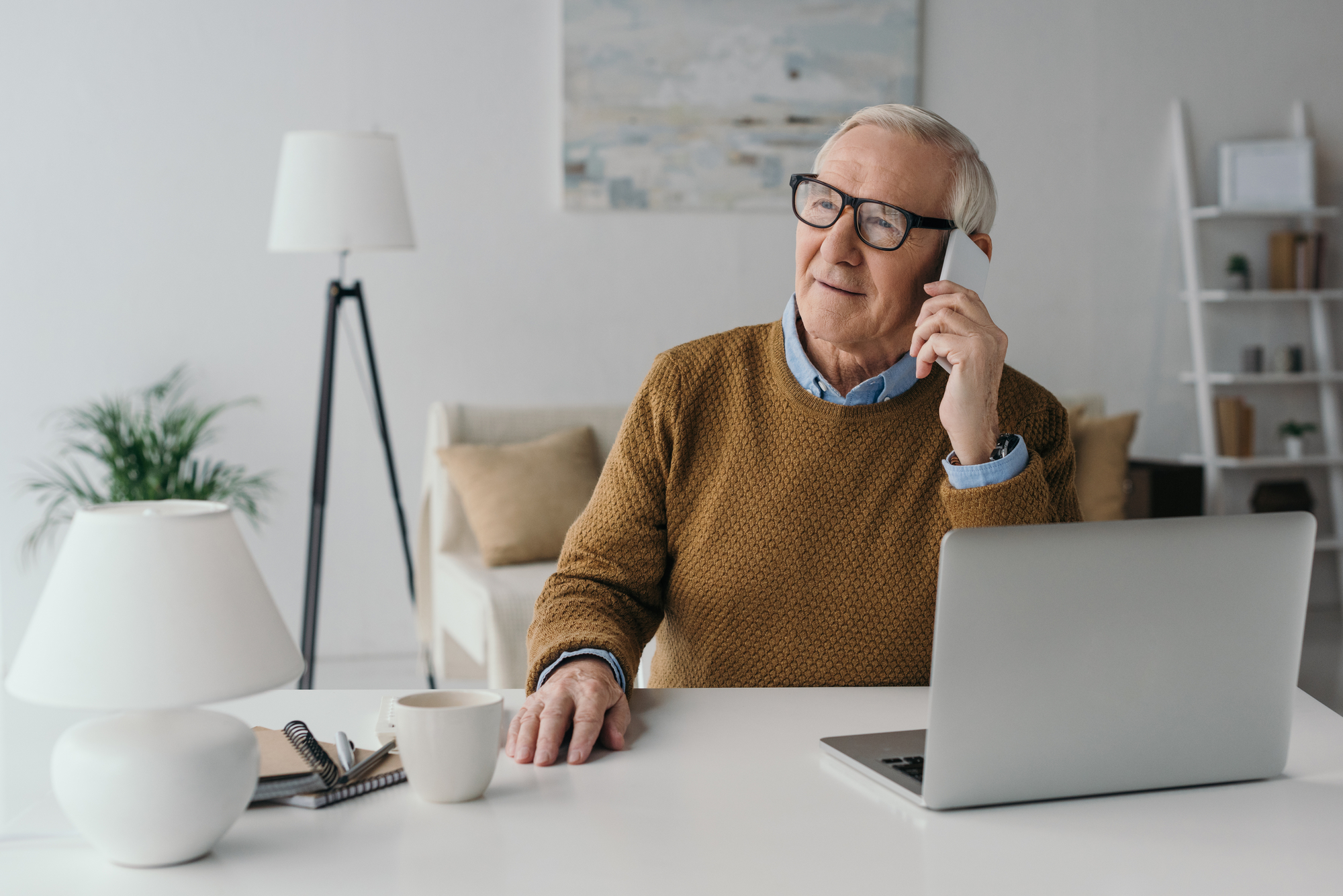 People work hard to earn their life savings and enjoy retirement. But many individuals try to cheat senior citizens out of their hard-earned money through various scams. Wealthy seniors are often targeted through these phone-, text- or online-based scams because they are thought to have plenty of assets to take; however, low-income seniors are also victims of these crimes. While strangers perpetrate some of the scams, the National Council on Aging estimates that family members, friends, or other relations account for 90% of elder abuse scams.
Elder financial scams are difficult to recover from because the losses can be great, and seniors have little time to recoup their money. Below is a rundown of the top 10 most common elder abuse scams nationwide, plus information about how to protect yourself from these scams.
Top 10 Most Common Elder Abuse Scams – Nationwide
Social Security Administration (SSA) Impersonation
The No. 1 elder-focused financial scam involves scammers calling seniors to claim that their Social Security number has been suspended because it has been used in connection with a crime or suspicious activity. To "clear" the number and ensure future Social Security payments, these scammers claim, the individual must send an urgent payment or divulge personally identifying information such as their Social Security number, date of birth, or bank information.
Many seniors fall for this scam because they don't want to risk interruption of current or future Social Security payments. However, the SSA does not suspend any Social Security numbers and does not require upfront payment to rectify suspected fraud. They never ask for payments or personal information by email, either. While SSA personnel may call you about customer service issues that require relaying personal information by phone, you can request a call back at a later time after you verify the legitimacy of the call via the SSA Inspector General's toll-free number, 1-800-772-1213. Seniors who believe they may be victims of an SSA scam can call the SSA Inspector General office at 1-800-269-0271 to file a complaint.
Robocalls Asking for Money
With the advent of Voice Over Internet Protocol (VoIP) technology, it has become possible for scammers to dial thousands of phone numbers daily with pre-recorded messages claiming there is a problem with the recipient's credit card, car payment, mortgage, or other asset. These calls usually originate overseas, although the scammers use technology to appear to be calling from a stateside or even local phone number. The call recipient is often transferred to a live person who will ask for money or personal information to rectify the supposed problem.
As with Social Security scams, never give out bank or personally identifying information over the phone. Never agree to purchase gift cards and read the gift card number over the phone. If the robo caller claims to represent a government agency, look up the agency online and call their listed number to verify the legitimacy of the caller's request.
Sweepstakes Scams
Winning the lottery or million-dollar sweepstakes like Publishers Clearing House sounds like a dream, but more often than not, calls about these types of wins are fake – and can cost thousands of dollars if someone falls for the scam. In this scenario, scammers call an individual, often from a Jamaica-based 876 area code, to tell them they have won a lottery prize and must send money to cover taxes or fees. If you question the fees, some scammers will involve others posing as bank or government individuals who ask for your bank or personal information to "investigate" the sweepstakes and verify it's legitimate.
Avoid this type of scam by researching the supposed sweepstakes online or by consulting with trusted family and friends. Never agree to send money via gift cards or wire transfer, and never send cash or give out debit or credit card information. Report suspected scammers by calling 1-855-303-9470.
Romance Scams
As more older Americans turn to online dating sites to find romance and companionship, the opportunity for criminals to take advantage of others also increases. The FTC fielded more than 25,000 calls about romance scams in 2019 alone! If you are active on an online dating site, or play interactive online- or app-based games such as Words With Friends, beware of anyone asking you to send them money to cover travel expenses, unforeseen medical procedures, debt, or other hardships. Romance scammers will spend weeks, or even months, building relationships with potential victims to convince them that they care and want a future with them, but are only interested in money. Be especially wary of anyone who claims to be a U.S. citizen but is living/working abroad and wants you to send money outside of the country.
Computer Scams
Computer-based scams involve fraudsters calling potential victims and offering computer virus protection services for a fee. In some cases, a pop-up offering such services will appear as you browse the Internet, or the scammer will call unsolicited asking for access to your computer so they can install virus protection software. However, giving an unknown person access to your computer allows the scammer to hack into your personal files and lock you out. Then, they demand a ransom for you to regain access to your computer.
Avoid computer scams by not clicking on any pop-up offering computer virus or malware protection, even if it appears to come from a large tech company such as McAfee, Microsoft, or Apple. Refuse computer help from anyone who calls you unsolicited, and do not click on "sponsored results" when searching for computer assistance online. If you do need tech support, call the phone number found on your software or hardware packaging.
Grandparent Scams
We care deeply for our families, and unfortunately, some scammers try to take advantage of these relationships by calling seniors and claiming a grandchild is in trouble and needs money. A typical scam looks like this: The fraudster has a young person call you claiming to be your grandson or granddaughter. The young person quickly explains that they are in trouble: They've been arrested, are already in jail or need help getting home. They quickly pass the phone off to another impersonator who claims to be a police officer, a lawyer, or a doctor, who instructs you to send money (usually via wire or in gift card form) to a contact in order to have your grandchild released. After sending the initial amount, these scammers will sometimes call the victim back to say there is more money owed due to unforeseen circumstances.
The best way to avoid grandparent scams is to verify your grandchild's status with your grandchildren themselves or other family members before taking any action. If the situation doesn't sound like your grandchild's typical behavior, it's probably a scam.
IRS Impersonation Scams
In this scenario, a caller will contact an individual claiming they are from the Internal Revenue Service (IRS), and the individual owes back taxes or penalty fees. If the individual doesn't pay immediately by certified check, wire transfer, or gift card, the caller threatens penalties such as arrest, deportation, home foreclosure, or other asset freezes. IRS impersonators call from a phone number that appears to have a 202 area code to match the IRS's Washington, DC headquarters, even though the calls often originate in India. Sometimes, someone claiming to belong to a local law enforcement agency will call threatening arrest if payment isn't immediately made.
While incidence of this scam has declined in recent years, seniors still find themselves targeted. The IRS will never call a taxpayer to demand immediate payment, will never ask for debit, credit, or bank information over the phone, and will never threaten arrest or deportation over tax liabilities. The IRS does not call taxpayers without first having mailed a tax bill, and it will never require payment in the form of gift cards.
Identity Theft
Broadly defined, identity theft is when a scammer uses your personally-identifying information to impersonate you for their financial gain. They may use tangible items such as a stolen wallet or financial documents to steal your identity, or they might hack into your online accounts, such as an email or bank account, to gain access to your assets. Identity thieves steal money through bank accounts or tax refunds, pose as others to collect Social Security, Medicare or Medicaid benefits, and apply for credit or jobs in others' names. It can take months or even years for seniors to repair damaged credit scores, recover funds, and prevent future harm.
The best way to prevent identity theft is to regularly review all incoming bills for unusual charges, request a yearly credit report, and never give out personal information over the phone. If you suspect someone has stolen your identity, take these steps immediately:
Call the companies where you know the fraud occurred and freeze all transactions in your name.
Place a fraud alert with a credit reporting agency and get your credit report from one of the three national credit bureaus.
Report identity theft to the Federal Trade Commission.
File a report with your local police department.
Find more information about preventing and handling identity theft at https://www.identitytheft.gov/.
Debt Collection Scams
Debt collection scams are becoming more common. They typically fall into one of two categories: late credit card payment scams or debt consolidation offers. In the former, a scammer will call a potential victim claiming they are late paying their credit card bill and must make an immediate penalty payment. They will sometimes threaten other retaliatory actions such as freezing a credit card or damaging one's credit score. In the latter, the scammer calls an individual asking for Social Security numbers or bank information in order to consolidate debts. If they receive that information, however, they will drain your bank account or commit other forms of identity theft.
To protect yourself, do not share credit or bank information over the phone, by text or through email, especially if you did not initiate the communication. Shred old bank statements, canceled checks, and credit card applications. Request a free annual credit report to monitor suspicious account activity.
Elder Financial Abuse
Unfortunately, sometimes the people senior citizens trust the most to take care of them break that trust by draining them of financial assets and property. Elder financial abuse can be perpetrated by family, friends, paid home care workers, or financial planners. The Government Accountability Office (GAO) estimates that seniors lose $2.9 billion to financial abuse by known perpetrators each year. However, because most seniors don't want to have their relatives or friends prosecuted, this number is likely much higher than reported.
It's important to preserve your assets in order to remain financially independent, so if you suspect someone close to you is siphoning your money, call your local Adult Protective Services agency for help. It's normal to enlist help managing your finances and property as you age, but it is best to involve more than one trusted individual and to have a certified accountant or financial planner regularly reviewing your accounts as backup oversight.
Top Elder Abuse Scams in Georgia
The most-reported scams among Georgia's senior citizens largely mirror those nationwide, with one notable addition: Inheritance scams. These are scams in which someone contacts an individual to offer assistance claiming a large inheritance (sometimes in the millions of dollars) from a distant relative or wealthy benefactor. Because of supposed government bureaucracy, tax rules, or bank regulations, you are asked to pay money upfront and/or provide sensitive personal or bank information to prove you deserve the inheritance. Some inheritance scammers incorporate sophisticated tactics, such as sending supposed legal documents and having other individuals posing as bankers or lawyers contact you, to convince you. These documents and agents are always fraudulent, and if you send money, you will not receive the promised inheritance.
If you have never heard of the deceased, the inheritance offer is probably not valid. Conducting a quick online search of the exact verbiage used in any emails or documents from people offering an inheritance often turns up evidence that such offers are scams. You can also consult with your personal accountant, financial planner, or lawyer if you're unsure about the validity of an inheritance offer. Never send money via any means to someone asking for an upfront payment in return for a larger sum.
Have Additional Questions? Contact Brian M. Douglas & Associates
Our law firm specializes in helping seniors live with financial peace of mind. If you would like assistance with an existing elder financial abuse situation or have questions about how to legally protect yourself, please reach out to Brian M. Douglas & Associates at (770) 933-9009.