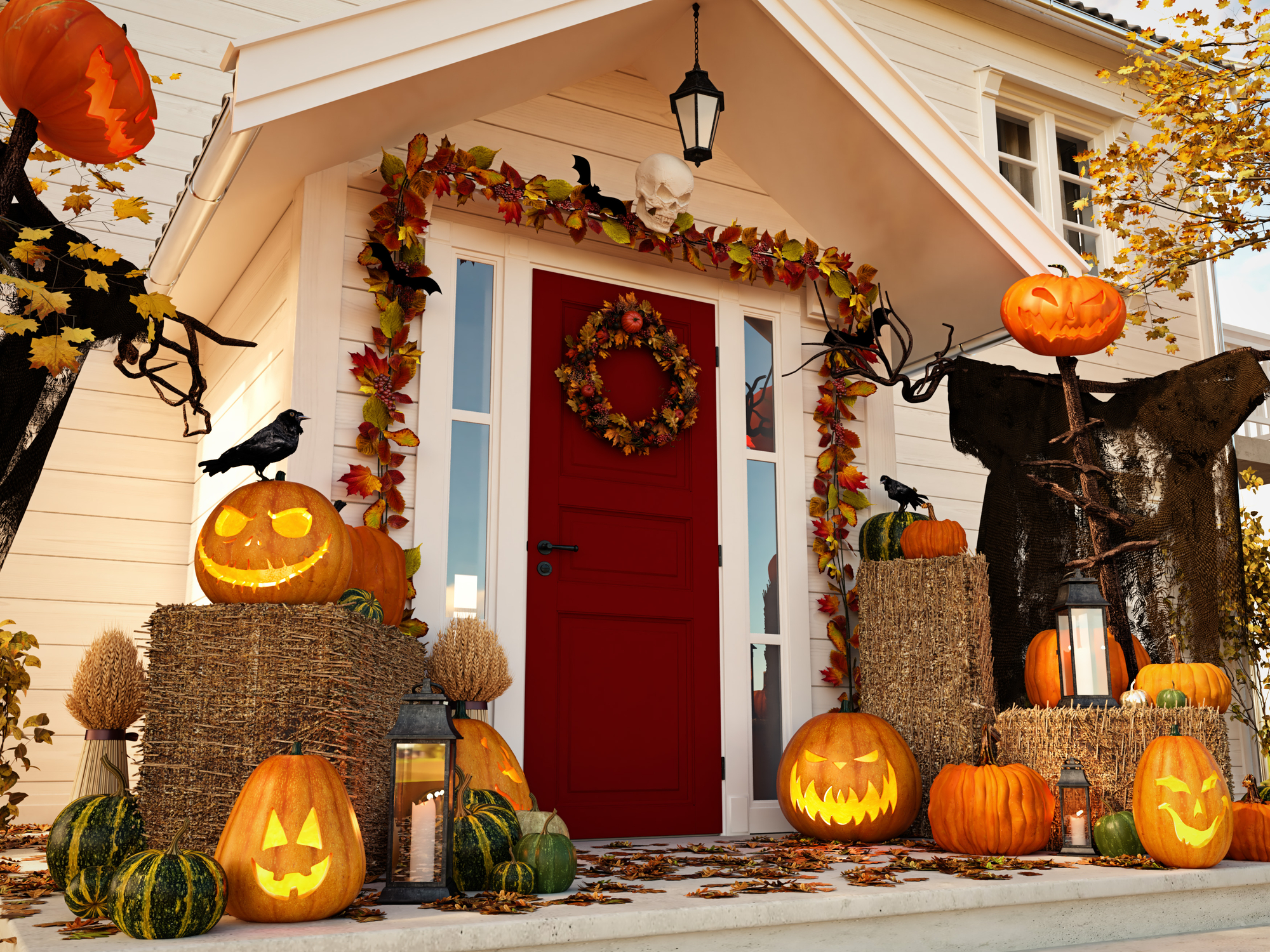 For many homeowners, the cooler weather means it's time to start putting up fall and Halloween decorations, both inside and outside their house. But before you put out the harvest décor and re-create your favorite Halloween scenes on the front yard, be sure to check with your Homeowners Association. Your HOA may have some rules in place concerning holiday decorations.
Homeowners Association Rules on Decorations
If you own a home or a condominium that is part of an HOA, you have officially and legally agreed to follow the rules established by the HOA board. These rules are in place to regulate any activities that could affect the neighborhood and its residents' wellbeing and safety. While every community has different policies and regulations, most homeowner's covenants, codes, and restrictions (CC&R) include stipulations about: exterior paint colors, sheds and outbuildings, mailboxes, landscaping, play structures (ex: swing sets, basketball hoops, trampolines), and pets. Along these same lines, HOA boards and CC&Rs may include regulations about Halloween decorations – what, where, when, and for how long.
Light Décor and Inflatables
Some HOA boards want the community to have a more uniform or conservative look so that it is appealing to residents, visitors, and potential home buyers. As such, the HOA may have regulations in place as to what color lights they'll allow. For example, the HOA might say that white or orange lights are fine, but red or blinking lights are prohibited.
It's also common for HOAs to have rules in place related to large, inflatable Halloween decorations. Before you place a goblin in your front yard or dangle a flying witch from the roof – be sure to check with the HOA. Many boards have restrictions related to the size of the inflatable and where it can be installed. Some go so far as to request that the homeowner submit an Architecture Change Request before anchoring any large decorations to the roof.
Decorations with Sound Effects
Some homeowners like to set the Halloween scene by including decorations that make noise or by playing spooky sound effects in their front yard. But no matter how much the homeowner likes their cackling witch or growling werewolf – if the HOA or neighbors think it's disruptive, the HOA will likely claim the decoration violates their noise restrictions. Many boards have rules in place regarding the type of noise, the level of noise, or when the homeowner can play Halloween-themed sounds or music.
Offensive Decorations
While not everyone will have the same taste in Halloween decorations (ex: a modest Halloween wreath vs. skeletons coming up from yard), the HOA board will step in if and when they think the decorations will offend the general public. This typically falls under the HOA rules prohibiting any inappropriate, offensive, or violent holiday décor. While there isn't a specific definition of what qualifies as inappropriate, the rule of thumb is to avoid gory, frightening, politically-offensive, or racially-offensive Halloween decorations.
Time Restrictions for Halloween Decorations
Once you have installed decorations that are neighbor-friendly and HOA-compliant, the next issue is how long you can leave those decorations outside. Again, every HOA has different rules in place, but many boards do have stipulations about when homeowners should install and put away their Halloween items. A common rule is removing the decorations within 20 days of the holiday. (Which, coincidentally, gives the homeowner time to plan their Thanksgiving décor!)
Violating the HOA Rules on Decorations
In addition to setting the community rules, the HOA board also decides how frequently and strictly they will inspect the neighborhood for violations. Some HOAs may be lax about fun Halloween decorations of enforcing the CC&R during the holidays. However, other boards are very strict and prompt about HOA violations. They will send the homeowner a letter, often with a photo and description of the violation, and will ask the homeowner to rectify the problem.
So, what happens if the HOA considers your Halloween decorations a violation? As a homeowner, you have a few options. You can remove the decoration. You can meet with the board and ask for an exception or an amendment to the HOA rules. And, you can do nothing. If you do nothing about the situation, you may face fines and even legal actions.
Have Additional Questions? Contact the Real Estate Team at Brian M. Douglas & Associates
Halloween is a fun time of year, and many homeowners enjoy getting into the spirit by decorating their home and yard. But before you unpack the Halloween gear, make sure you're using your best judgment – and double-checking your HOA rules. If you have additional questions about HOA communities or policies, please feel free to reach out to us at (770) 933-9009. We'd be happy to help. Happy Halloween!