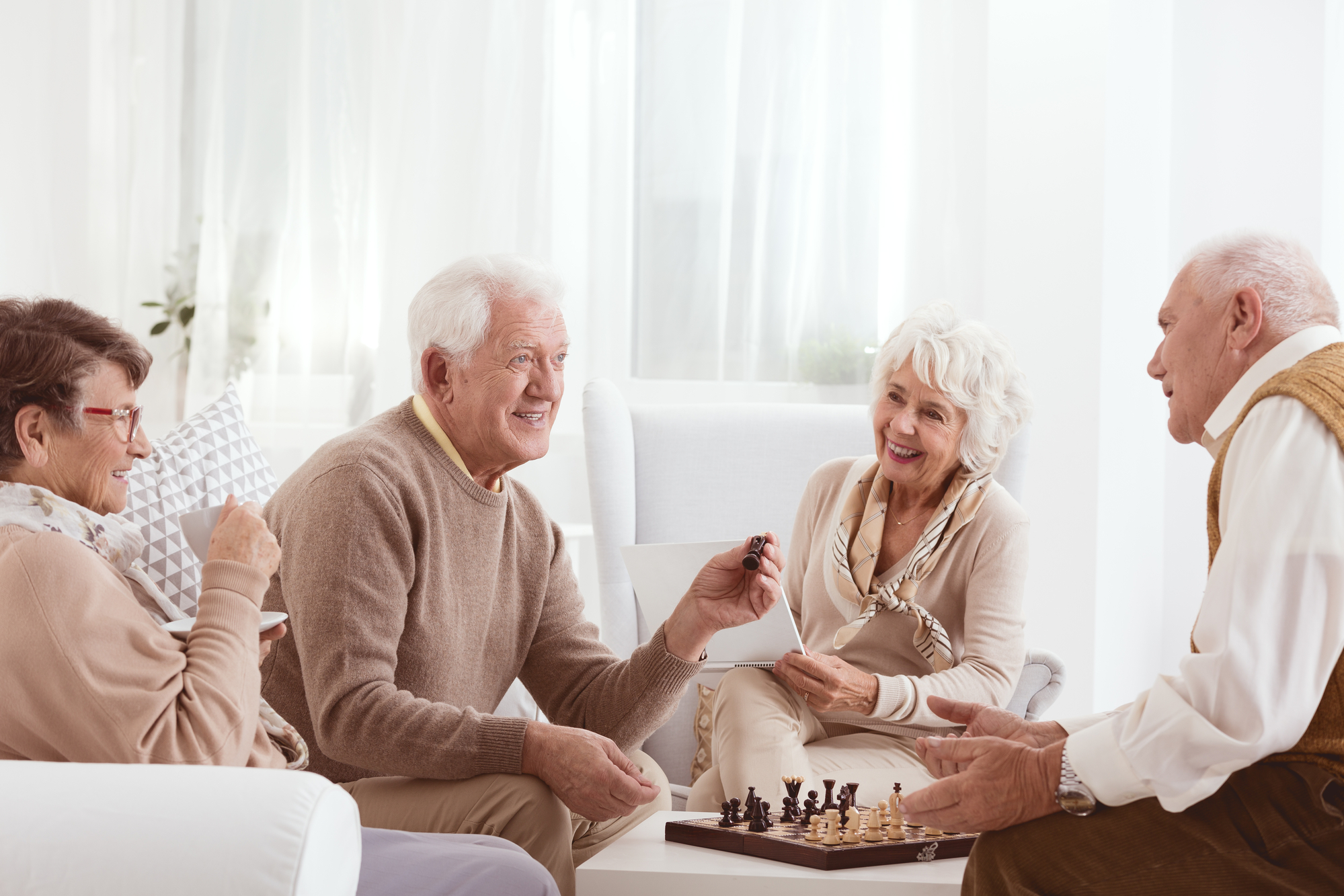 More seniors are choosing senior living communities, with 300,000 communities in the US serving close to 800,000 seniors (Source: CDC). There are many different types of housing options available, everything from apartments and mobile homes to condos and single-family houses. Typically, though, residents live in their own, private dwelling spaces and have access to common areas and leisure amenities. "Over-55 Retirement Communities" or "Independent Living Communities" are neighborhoods designed specifically for seniors, with amenities for an active lifestyle but also a little assistance with duties of daily life. "Assisted Living Facilities" and "Continuing Care Retirement Communities" are facilities that provide seniors with their own living spaces, while also offering care and assistance for residents' physical and medical needs. While there are many housing options available, one of the differentiating factors is the occupant's ownership and property rights.
Equity or Ownership Communities
An equity or ownership-style community is an arrangement in which the resident purchases their unit (whether that is an apartment, townhouse/condo, or separate house) and enjoys full ownership privileges of that property. Residents typically pay a monthly maintenance fee and community association dues. They are also responsible for paying their real estate taxes and for any needed repairs or renovations to the unit. If the resident requires a higher level of assistance or care, there might be an assisted living center on-site for an additional cost, or the resident may need to move out of the community and into a continuing care facility.
There are benefits to owning a unit in a senior living community. The first is a sense of ownership and control. When you own the property, you can make it yours – you do not need any permission to decorate the place how you want to, and your dwelling can truly become your new home. Another benefit is a sense of connection to the community. You are making an investment in yourself and a long-term commitment to the community. The more you become active with the community and its different programs, the more you will develop a sense of belonging and purpose.
Rental Communities
Rental communities are one of the most common housing options for active seniors. Typically, these communities require the new residents to sign a lease and pay a security deposit or community fee. Rental communities usually provide a variety of services and amenities that are built into the monthly rent, including meals, housekeeping, transportation, and on-site activities. There may also be an assisted living facility within the community for residents who need extra care and assistance – this service would be an additional cost. As with the ownership communities, if a resident requires a higher level or care, he or she may be required to move to a continuing care facility.
Many seniors consider rental housing because there is no large, up-front fee or a long-term obligation. Residents can be released from their housing agreements within 30 days, or sooner due to medical needs. Because the residents do not own their home, they do not have to worry about repairs or sudden, unexpected expenses. However, as with other rental properties, the occupants are limited in what they can do with the property as far as decoration, renovations, or structural changes. As a result, there may not be that same feeling of home and community as with the equity communities.
Continuing Care Retirement Communities
A continuing care retirement community (CCRC) is a senior living community that offers different levels of care and housing within the same campus or building. Residents must meet certain financial and medical requirements to qualify for move-in. Once accepted, residents pay a large, up-front entrance fee, plus a monthly charge. Most CCRCs will offer one of the following contracts:
Type A (Extensive Agreements): residents pay a substantial up-front fee, and the monthly charges will stay the same – regardless of the level of care needed.
Type B (Modified Agreements): residents pay a lower up-front fee, but their monthly payments may change depending on the level of care needed.
Type C (Fee-For-Service): residents pay a lower up-front fee and a lower monthly rate; they pay for their level of care as needed – typically per diem or full market rates.
Generally, CCRCs are considered more expensive than senior rental retirement communities, because of the variety of housing options (both rental and purchase), the on-site amenities, and the different care options available. The key feature that distinguishes CCRCs from other senior living communities is the contractual obligation. Once a resident is accepted into the community, the community is contractually obligated to provide housing and priority access to a variety of care services. CCRCs are not for everyone, but those who prioritize guaranteed care over individual property rights may enjoy this option of housing.
Have Additional Questions? Call the Estate Planning and Real Estate Attorneys at Brian M. Douglas & Associates, LLC
Whether you chose a senior ownership community, a rental community, or a mixed-use community, there are pros and cons to each of these options. So, it is important to assess your needs and determine how much independence you want to maintain. If you have additional questions about real estate or property law as it relates to senior living communities, please reach out to Brian M. Douglas & Associates at (770) 933-9009.