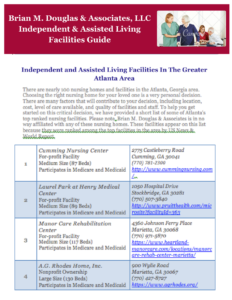 Did you know that a 2017 study shows that up to half of Americans will need to stay in an assisted residential facility home at some point in their lives? Whether for short-term recovery or long-term support, it is becoming more and more common that Americans will require this level of residential care. There are a number of reasons for this increase: Americans are living longer, we have an aging population, many patients are released early from hospitals during rehabilitation and recovery, and we are seeing a marked increase in the incidence of dementia.
Deciding that it's time for a loved one to move to an assisted living facility is an incredibly personal and difficult decision. However, once it's made, where do you go from there? How do you choose a residential care facility? How can you be sure that your loved one will get the care they need?
At Brian M. Douglas & Associates, we know that choosing a residential care facility and preparing a loved one for the move can be a stressful and overwhelming time. To make things a little easier for you, we created an Independent and Assisted Living Facilities Guide to the Greater Atlanta Region. It provides information about top assisted living facilities in the area and guidance through the process of choosing the right facility for your loved one, including questions to ask, what to look for, and how to prepare your loved one for a safe transition.
Click here to download our free Independent and Assisted Living Facilities Guide.