Brian Has Been Featured On:

"I was so thoroughly impressed with Brian's service. Everything happened so quickly and efficiently. He was very knowledgeable and answered all of my questions and really put my mind at ease."
– Maria
About Brian
[columns align="middle"]
[col]



[/col]
[col]
Attorney Brian M. Douglas
"We make ourselves accessible because we care," he says. "At Brian Douglas & Associates, we truly believe it's not just business; it's personal."
Meet Brian
[/col]
[/columns]
Our Practice Areas & Service Areas
Areas We Serve
We can serve clients in every county within the State of Georgia, and a majority of the areas we serve are:
Cobb County, Fulton County, Gwinnett County, DeKalb County, Forsyth County, Cherokee County, Douglas County, Paulding County, Carroll County, Bartow County, Hall County, Barrow County, Walton County, Newton County, Rockdale County, Henry County, Clayton County, Fayette County, Spalding County, Coweta County
Our Practice Areas
Estate Planning, Uncontested Probate Administration, Contested Probate Administration, Trust Litigation, Trust Administration, Guardianship, Conservatorship, Business Law, Real Estate Transactions and Law, Wills and Trusts, Power Of Attorney, Long-Term Care And Medicaid, Charitable Planning, Special Needs And Disability Planning, Estate Tax Planning, Business Succession Planning, Medicaid Crisis Planning
Check Out Our Winter 2021 Magazine

"You will not find a more dedicated, hard working attorney who truly cares about achieving the best outcome for his clients. If you're seeking a sharp go-getter, Brian is the man for you."
– Jodie E.
[columns align="middle"]
[col]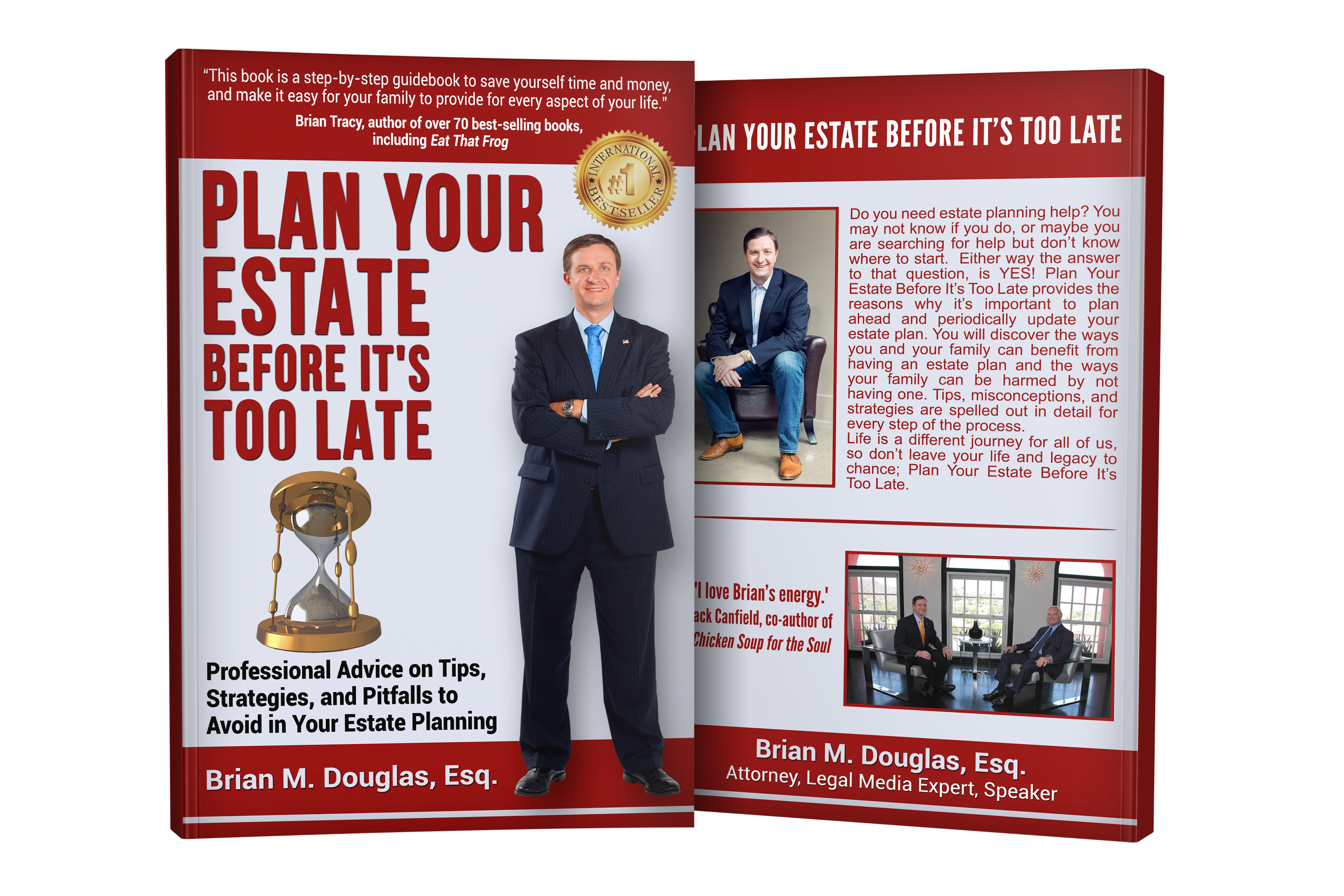 [/col]
[col]
Get My Book on Amazon
Get a copy of my book over at Amazon. The book provides professional advice on tips, strategies, and pitfalls to avoid in your estate planning.
Get the Book
[/col]
[/columns]
Looking for immediate answers to your questions?
Schedule a Consultation Today!
Schedule a consultation with our firm today. Let us know how we may be of assistance.
Atlanta, Georgia Estate Planning Attorneys
Estate Planning, Probate, & Business Planning Services
At Brian M. Douglas & Associates LLC our goal is to help our clients with compassion in order to make the process of completing an estate plan or dealing with the stress of administering the estate of loved one as easy as possible. Our goal is to have every client leave our office feeling less stressed and grateful they took the steps to hire our firm to assist them with their legal needs.
We Are Here To Help
Our firm offers additional information through our Estate Planning and Probate newsletter archives (and monthly e-newsletters). We will touch on such areas as estate planning, probate, elder law, Medicaid planning, business succession, asset protection for business owners, and how you can protect your family. We encourage you to subscribe to our e-newsletter or use our "Get Help Now" button at the bottom of the page to request your consultation with our office.
About Us
Atlanta, GA Estate Planning Attorney, Brian M. Douglas, assists clients in all areas of life & wealth planning. Services provided include estate planning, trusts and estates, planning wills and trusts, power of attorney, probate and trust administration, small business law, corporate law, real estate transactions and law, long-term care and Medicaid, veterans benefits, charitable planning, special needs and disability planning, estate tax planning, business succession planning, Medicaid crisis planning, and asset protection. Brian M. Douglas serves all of Atlanta, Georgia, along with Cobb County, Cherokee County, Fulton County, Forsyth County, Dekalb County, Gwinnett County, and Douglas County.