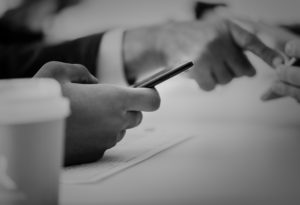 In the legal profession, the single best method for getting new clients — even more effective than advertising and social media presence — is the humble referral. This is because, when you hire a lawyer, you aren't just paying someone to perform a service. You are entrusting your livelihood, and your future, with a professional who you hope has the experience and the skill to provide necessary guidance. That's why referrals are so important: the people you most trust are able to say to you, here's somebody I think can help.
At Brian M. Douglas & Associates, we take our role as trusted advisor very seriously, and we consider it the highest honor when we are referred by our colleagues and clients. If you have worked with us in the past, either as a client or a fellow professional, please consider referring our firm to others who need estate planning, business, or real estate help. If you still need some convincing, here are five reasons to refer us.
We are specialists, not generalists.  Some firms like to hedge their bets by taking cases in a bunch of different areas of law.  We believe in the value of expertise. For us, it is more important to truly excel at a few areas of law rather than to dabble far and wide. That means, when you refer Brian M. Douglas & Associates, you can feel comfortable knowing that your friend or family member is going to get high-quality legal services backed up with years of specialized experience.
Small firm services with big firm quality. As a small firm, we are able to provide a level of service and attention to our clients that just isn't possible for the bigger firms. Each of our clients receives individually-tailored legal services designed to create the best possible outcomes. Fill-in-the-blank forms are not for us. Our legal services are all aboutpersonalization and really caring about our clients.
Get to know our entire team. At Brian M. Douglas & Associates, we work as a team. We believe that, by coordinating our office internally, we can provide the best possible client experience. Because our staff works together as a team on each of our client files, there will always be someone in the office ready to answer a question or provide an update. We know your time is valuable, so you shouldn't have to waste a moment tracking down your attorney or waiting for a call back.
Work with one of the top estate planning attorneys in the country. Did you know that Brian M. Douglas wrote a book? Plan Your Estate Before It's Too Late is a #1 International Bestseller. Brian is also a top-rated attorney in the state of Georgia and consistently receives excellent reviews from clients. If you want to see and hear more from Brian, you can check out his book, legal blog, Youtube videos, and video Frequently Asked Questions.
We believe in getting what you pay for. Unlike most law firms, Brian M. Douglas & Associates does not charge an hourly rate to talk to your lawyer about your estate plan. Instead, we provide our estate planning services on a flat-rate model. That way, you know what to expect, and there are no unpleasant surprises. Because we charge a flat fee, you never need to worry about calling with a question or asking for more information. Your estate plan is designed for you, and we are committed to helping you understand every part of the process.
At Brian M. Douglas & Associates, we strive to provide a compassionate and professional environment for each of our clients. We consider our clients friends, and we enjoy building long-term relationships with every family we meet. To our former clients, current clients, and colleagues, we have greatly enjoyed getting to know you. If you were happy with the work we have done for you, please consider referring Brian M. Douglas & Associates to your friends and family.