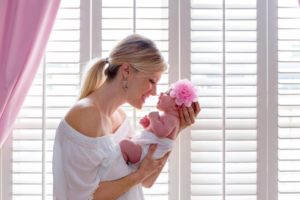 Mother's Day is all about spending time with family and showing the mothers in your life how much you appreciate all that they do. If you are like me, you find yourself year after year at a loss for what to get the moms in your life for Mother's Day. The reason why this is so hard is because there is almost nothing you can get a mom that compares with all of the hard work, long days (and nights), and unending strength that mothers give on a daily basis. Flowers just never seem to cut it.
Instead, this year, consider giving the moms in your life something more valuable: peace of mind. Whether Mom's children are young, just flying away from the nest, or grown and creating lives of their own, a mother is never done worrying about "what ifs" and planning for the future. You can help the mothers in your life alleviate some of that worry by gifting them an estate planning session with an experienced attorney.
Estate Planning for Mothers with Young Children
Any mom with young children knows that finding reliable and trustworthy child care is a nightmare. But what some mothers do not think about is who will be there to care for her children if something happens to her. Creating a well-thought out and legally enforceable guardianship plan is the single most important thing parents of young children can do to prepare for the future.
Choosing a guardian to care for minor children can be an incredibly emotional decision. Taking the time to carefully consider the options and appointing the right person, however, is always worth it. An experienced and empathetic attorney can support parents of young children every step of the way: from considering possible guardians, to sharing the decision with loved ones, to incorporating the guardianship appointment into a legally enforceable document.
Caring for minor children by planning for the future does not stop with selecting guardians. Parents will also want to consider the financial legacy they leave behind. For this, trusts are a versatile and effective tool. A trust can be used to provide for the everyday support and care of minor children, even if they are in the care of a guardian. Trusts can also be designed to provide for children with special needs, for education, and to protect the family's property so that a child doesn't end up receiving his entire inheritance on his eighteenth birthday.
If the mother in your life has minor children, consider gifting her a child protection planning session with one of our experienced attorneys. She will not only leave the session with a legally-sound plan in place, but she will leave with a renewed sense of calm, control, and security. Is there a better gift than that?
Estate Planning for Mothers with Grown Children
A mother's worries about her children's wellbeing never end, and they certainly do not end when children turn eighteen. There are many ways that Mom can continue providing guidance and support for her children even after she is gone. An experienced estate planning attorney will listen carefully to Mom's values and preferences and tailor a customized estate plan just for her. This can include the basics like a will, power of attorney, and advance healthcare directive — and the basics aren't nothing. They will put her mind at ease knowing that she has provided the necessary instructions to protect her loved ones from future conflict and distress.
With the basics in place, there is even more that Mom can do to make sure that her children (and grandchildren!) will be cared for. She can review her estate to see what assets she can keep out of probate, which will help them pass to her heirs more quickly. She can prepare any real estate or personal property for easy transfer to her heirs. She can even set up a trust to further protect her children's inheritance and to allow her more control over how and when the assets are distributed.
Give Mom the gift of peace of mind, and as a bonus gift, offer to help her out by organizing any necessary paperwork. Make a day out of going through the piles of papers, and help her get things in order. This is even a great opportunity to talk honestly about her preferences, concerns, hopes, and fears.
The Greatest Gift
If there is one thing mom's do well, it is planning. But with their busy lives and hectic schedules, estate planning often gets placed on the back burner, and out of sight doesn't mean out of mind. Mom is likely worried about the "what ifs" even if she hasn't taken the first steps toward estate planning. Maybe she could use a nudge. If she has an estate plan but has not revisited it in a while, she may be surprised to see how much of her estate plan is out of date or no longer reflects her preference.
For Mom, making sure that her kids will be cared for if she is no longer able to do so is the greatest gift you can give. So, take her out to brunch. Throw in flowers, too, for tradition's sake. Then invite her to meet with our experienced and caring estate planning attorneys to begin preparing a plan that will protect her children no matter what comes.
During the month of May, Brian M. Douglas & Associates is celebrating Mother's Appreciation Month! Moms, if you reach out to us during the month of May to set up an EPIC Planning session, you will receive a free EPIC Planning Session ($450) value, a copy of Brian's book, Plan Your Estate Before It's Too Late and the first 10 moms to make and attend appointments for an EPIC Planning Session will also get a free mani/pedi on us from Hammond Nails!