If you are like most people, your home is the highest-value asset in your estate. As a large part of your estate, you will want to make sure that your home is properly prepared to transfer to your intended heir(s) as quickly, privately, and affordably as possible.
Planning to transfer real property after your death is different than the other assets in your estate. Real property is your home, the land you own, and anything attached to the land. Unlike other assets, such as bank accounts, insurance policies, and personal property, real property ownership is shown with a deed and is recorded in the land records for the jurisdiction.
Free Report For Atlanta Homeowners
Estate planning as a homeowner does not have to be as complicated as it seems, but it is essential that you look closely at how your property will be treated after you pass. To learn the best way to pass on your largest asset without unnecessary headaches and cost, sign up to receive our free Homeowner's Estate Planning Report and a $450 gift below!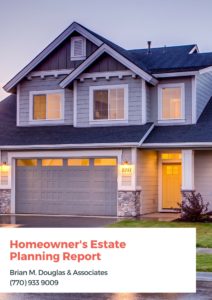 Contact Brian M. Douglas, LLC Today
If you are not sure you need an attorney, you can always come in for a consultation to discuss your situation. Please contact our office if you or someone you know has recently purchased a home and has questions about what to do next.
Call us today at (770) 933-9009 to schedule your consultation with a Greater Atlanta area estate planning and probate lawyer today.